Cancun's Buzzing Arts and Culture Scene, From Street Performers to Mayan Ruins
Cancun's Buzzing Arts and Culture Scene, From Street Performers to Mayan Ruins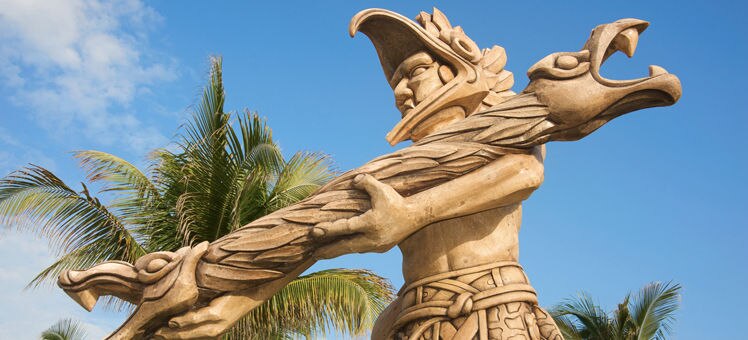 Cancun is young and buzzing for sure - but the city has absorbed the cultural traditions of the rest of Mexico as well as the ancient Mayan civilization that once inhabited this coastline. The local community is actively involved in organizing live performances and cultural festivals that Cancun visitors and residents alike can enjoy.
Performing arts
You'll find small indoor and outdoor theatres throughout Cancun, so if you're keen on catching a play, dance performance, or concert you'll be spoiled for choice. The city has a very active performing arts community, and is a popular stop for national and international musicians on tour.
Teatro de Cancun
Cancun's main theatre is located close to the water in the Hotel Zone. Here, you can take in an array of plays, musicals, and concerts for all ages. Most are in Spanish only.
Blvd. Kukulcan Km 4, Cancun, Quintana Roo 77500Tel: +52 998 849 55 80
Teatro de Cancun website
Parque Las Palapas
This sprawling park in Downtown Cancun features a large central stage and plaza hosting cultural fairs, concerts, and plays. On weekend evenings, you can often catch live theatre and street performances.
Calle Margaritas, Cancun, Quintana Roo 77500.
Parque Las Palapas website
Museums
Cancun proudly displays its Mexican and Mayan heritage in several small but well-stocked museums in the Hotel Zone. Take a day of your vacation to learn more about the region's mysterious and intriguing history at one of these beautiful venues, located just a quick bus ride from most hotels.
Museo Maya de Cancun
Cancun's pristine and contemporary Mayan Museum is a bright space filled with ancient artifacts. This is the place to come if you want an insight into the local Mayan culture of the state of Quintana Roo.
Blvd Kukulcan Km 16.5, Cancun, Quintana Roo 77500. Tel: +52 998 885 38 42
Museo Maya de Cancun website
Museo Sensorial del Tequila
Here, you can walk through the traditional tequila-making process at Cancun's Tequila Sensory Museum, and complete the sensory experience with a tequila tasting.
Blvd Kukulcan Km 12.5 Torre Europea, Cancun, Quintana Roo 77500. Tel: +52 998 842 02 81
Museo Sensorial del Tequila website
Cancun's Mayan ruins
You don't have to head into the depths of the jungle to explore ancient Mayan ruins - the Cancun Hotel Zone has its own sites, which you can easily reach with a quick ride on the city bus. Access to local sites will only set you back the equivalent of a few dollars, making a visit to Cancun's Mayan ruins an affordable and simple morning adventure.
San Miguelito
Hidden away among the resorts and restaurants of Cancun's main strip, this small site features several ruins and winding jungle paths.
Blvd Kukulcan Km 16.5, Cancun, Quintana Roo 77500. Tel: +52 998 885 38 42
San Miguelito website
Ruinas El Rey
The Mayan ruins of El Rey reveal a civilization that was dedicated to fishing and maritime trade. Today, the site has 47 remaining structures that you can climb and explore.
Blvd Kukulcan Km 18, Cancun, Quintana Roo 77500.
Ruinas El Rey website
Day trips to Mayan ruins
Nearby travel destinations like the Riviera Maya and Yucatán Peninsula boast their own impressive Mayan ruins within a few hours' drive of Cancun. A day trip to these historic sites is a treat for the eyes and the mind. You can walk along city paths known as sacbe and discover the temples and pyramids of the Mayan empire's ancient cities.
Tulum
Located 2 hours south of Cancun, the well preserved ruins at Tulum are set on a clifftop with sweeping views over the Caribbean Sea and a small beach. You can take an organized tour from Cancun, or catch an ADO city bus.
Carretera Federal 307, Tulum, Quintana Roo 77780.
Tulum website
Chichen Itza
The towering pyramids and impressive temples of this powerful Mayan city are a 3-hour drive from Cancun. El Castillo pyramid is the main attraction at Chichen Itza, but the Observatory and ceremonial cenote add an intriguing beauty to the site.
Piste, Yucatán 97750. Tel: +52 985 851 01 37
Chichen Itza website
Discover
Find your perfect holiday in Cancun
From 1130 hotels.