From Tea Rooms to Floating Restaurants - Top Places to Eat in Lincoln
From Tea Rooms to Floating Restaurants - Top Places to Eat in Lincoln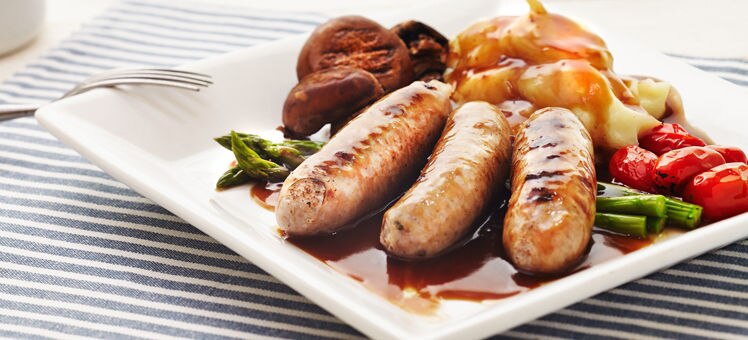 Lincoln has a wide range of restaurants in all price categories, from basic cafés to fine dining, via gourmet pubs. You'll be able to choose from many types of European and Asian cuisine, including Italian, Japanese, and Portuguese. For hearty British fare, visit a fish and chip shop, or a pub. For tea and cakes you can stop off in one of the city's many tea rooms.
Typical dishes
Arguably Lincoln's best-known contribution to Britain's culinary heritage is Lincolnshire pork sausage, typically flavored with sage. Lincolnshire haslet - made from ground pork - is similar to meatloaf, but usually served cold.
Cathedral Quarter
As the spot where most visitors to the city tend to congregate, Cathedral Quarter is also where you'll find many of Lincoln's finest restaurants. At the elegantly decorated Bronze Pig, you can enjoy refined British-inspired dishes, such as beef with horseradish, chosen from a menu that changes every week. For a lighter meal, pop in to Bunty's Tea Room. It serves baked potatoes with a variety of fillings, as well as sandwiches and salads. Or, if you're flagging while walking up Steep Hill, you can indulge in its filling Afternoon Tea, designed for sharing between 2.
Brayford Waterfront
Brayford Waterfront was used as a harbor by the Romans. Today this former industrial area has been redeveloped into an entertainment district, featuring a wide range of eating options. You'll find every cuisine here, from Thai and Japanese to Italian and Mexican. For something different, you can also dine aboard several floating restaurants. The Barge on the Brayford serves international dishes, with a focus on steaks and seafood. Or if you prefer a view of both the water and the cathedral, you can head up to the 5th-floor Electric Restaurant and Bar. It prepares modern takes on British classics.
High Street and "Downhill"
You'll find a lot of restaurants dotted along High Street. This is the busy shopping thoroughfare that cuts through the centre of "Downhill" - the lower town. Many are informal cafés and tea rooms, designed to refresh hungry and thirsty shoppers. Craft Bar & Kitchen cooks up tapas and gourmet burgers in a conservatory-style setting. If you have a sweet tooth, you may prefer its ice cream parlor. Henry's Tea Room serves all-day English breakfast, light lunches, and high tea, all in a Victorian dining room.
Countryside restaurants
You'll have a good choice of countryside dining options if you visit the villages surrounding Lincoln. These range from characterful local pubs with gourmet food, to top-end restaurants in country hotels. In Burton Waters, 2 miles west of the city, waterfront Laguna Verde dishes up refined takes on established Mediterranean classics. Its windows offer panoramic views of the adjacent boating marina. At The Dining Room Restaurant in Washingborough Hall, you can enjoy a lavish meal in a manor-house setting.