Istanbul shopping guide – where to shop and what to buy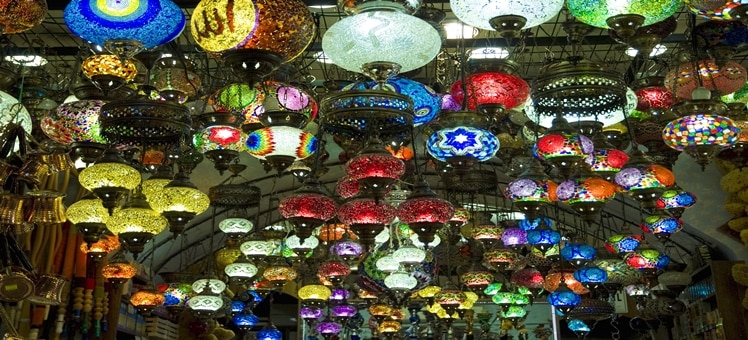 As the historical and geographical connection between the Eastern and Western worlds, Istanbul has long since been a buzzing site for trading. This was one of the main reasons for Istanbul's founding – the city is built on shopping. From malls to bazaars, Istanbul has the complete selection of retail attraction. And shopper or not, no trip to Istanbul would be complete without a wander round the iconic Grand Bazaar.
Sultanahmet
Sultanahmet once sat on the Silk Road dating back to the Ottoman Empire and still has the most famous landmark on this route – the Grand Bazaar. The Grand Bazaar is more than half a century old, and is full to the brim with bright colors, exotic patterns, and oriental aromas. There are 5000 shops and it is well known for its jewelry, hand-painted ceramics, embroideries, carpets, and spices. The sheer size of the bazaar may make it seem difficult to navigate, but many stalls are grouped together according to their type of goods.
Antiques
Istanbul is a city with strong remnants of Ottoman life still apparent. It won't come as much of a surprise therefore, that Istanbul is home to some of the best antique shops in the country. Gelata boasts a good number of antique shops, particularly in the Çukurcuma neighbourhood. The windy and narrow streets here have Nostalji Antik, which sells mostly antiques from the mid-20th century and art nouveau pieces. A short walk from here to the east is A La Turca. This is the richest antique shop, designed to maintain the illusion of an Ottoman private house. Kilims – Turkish rugs – are a specialty here and come in an array of colors and styles.
Galata
Galata is a hotspot for fashion retailers. Serdar-i Ekrem Street is dotted with shops, one of the most conspicuous of which is Atelier 55. A large, navy blue awning indicates the entrance to this shop, where you can browse through collections of international and local brands. They also sell jewelry and furniture. Building is a shop that sells almost exclusively Turkish brands, such as the up and coming brand, Urbanbake, which designs jewelry. This is certainly the place to shop for innovative designs.
New City
The malls of the new city offer the most modern approach to shopping in the city. Cehavir is a big, six-floor mall with white walls and flooring and sunny lighting. The shopping opportunities are various and typical of a shopping center; from retail to electronics and even a food court, it is easy to spend hours here. Kanyon Shopping Mall and Istinye Park are two of the most upscale shopping centers in the city. Both are extremely impressive in their design, with a cylindrical dome as the main feature of Istinye Park, which is lit up with purple and gold in the evening. Kanyon Park, meanwhile, was awarded the 2006 Cityscape Architectural Review Award, so you can enjoy a wonderfully modern design while browsing through high-end goods.
Discover
Find your perfect holiday in Istanbul
From 2860 hotels.