A city guide to Perth - swig, surf and swing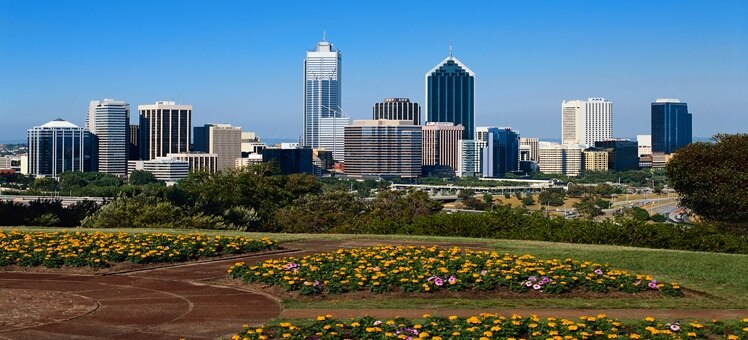 Combining natural beauty with cosmopolitan charm, the city of Perth has a widespread list of attractions. Sample the city's homemade produce at one of its prestigious wineries or award-winning microbreweries, or discover every nook and cranny by CAT. Sunny days can be spent on one of the many beaches or in its balmy waters. Others will prefer the many golf courses that welcome both the public and private members.
Beer and wine
West Australia, particularly Perth, is jam packed with award-winning wineries, breweries and microbreweries. 25 kilometers east of Perth's city center is Swan Valley, where vast planes of grape vines sprout up and stretch to the surrounding treeline. At the Feral Brewing Company you can see how a family-run business has excelled into an award-winning microbrewery and sample the goods at their on-site restaurant. If you're happy to let someone else take the reins, try an Eating and Drinking Tour of the area, as experts in all the local produce will wine and dine you with everything Perth has to offer.
Getting around – ride the CATS
Motor powered tours can cost the earth in some cities, but in Perth you can ride around the city and its surrounding areas using the very free and very useful Central Area Transport Services, or 'CATS'. The complimentary service runs around various parts of the city, so you can hop on and hop off till your heart's content, exploring the city at your own pace. Labelled by color, the CATS run east to west on the Red CAT, north to south on the Blue CAT, east to west on the Yellow CAT, and run a regular service through Fremantle and Joondalup.
Golf
Perth has a number of golf courses spread across the city, with hillside options or those located near to the coast. The Cut Golf Course, however, combines the two with its undulating green mounds, sunken sand pits and unobstructed view of the Indian Ocean. For those looking for a challenge, Marangaroo is ideal with its hindering bush land and blind tee shot positions, making it one of Perth's most popular courses. You won't find a truer Australian golfing experience than at the Vines Resort and Country Club, whose grounds are roamed by clans of kangaroos!
Beaches
Of course with a 50 kilometer strip of shoreline along its Sunset Coast, it's not hard to believe that Perth is a sought after beachside destination. Its sunny climate means that its seas are warm and its beaches, glowing. City Beach has won a number of 'The Best Beach' awards for its soft, powdery white sand and on-site facilities which include beach volleyball, barbecues and a boardwalk. Trigg Beach is a popular spot for surfers as its surf break is consistent, although snorkelers are also often found in the water, whose turquoise and azure blue color makes for good visibility. Families are found in the calm, sheltered shallows of Mettam's Pool, along with an abundant marine life.
Discover
Find your perfect holiday in Perth
From 510 hotels.