Where to stay in the Gold Coast – a neighborhood guide
Where to stay in the Gold Coast – a neighborhood guide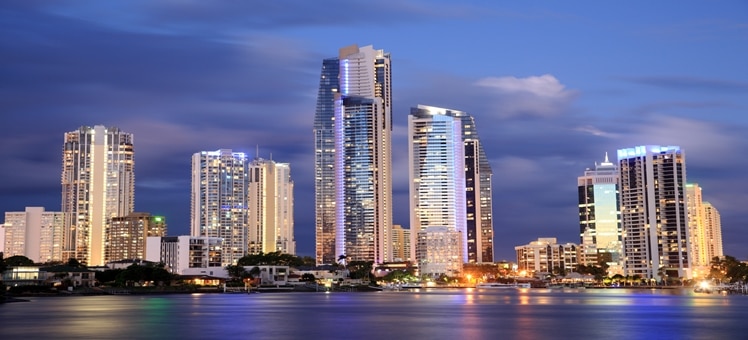 Being a city spread along a 70 kilometre coastline, finding somewhere attractive to stay in the Gold Coast is hardly a challenge. Picking your perfect location simply depends on your requirements. Everything from bustling family hotels to luxury boutiques dominate the Surfers Paradise and Broadbeach regions; however, if you're searching for something more affordable and relaxed, it's better to head towards Main Beach, Miami, Burleigh, Kirra and Coolangatta.
Central Gold Coast & Surfers Paradise
Surfers Paradise and Broadbeach, two of the most iconic suburbs on the Gold Coast, are places to stay if you want to be right in the heart of the city. Both locations are perched right on the beachfront and are a prime zone for public transport, making access in and around the city effortless.
Hotels in Central Gold Coast & Surfers Paradise
Close to beaches, water parks, theme parks and museums, hotels in Surfers Paradise are close to all the action. Being so central you may find prices are a little higher here, however, hunt around and you will find something to suit.
Main Beach & Northern Gold Coast
Home to Main Beach, one of the city's most popular suburbs, Northern Gold Coast has plenty of character. Extending along the Gold Coast highway and with readily available public transport links, visiting surrounding attractions is easy. Home to an exciting array of tours, activities and cruises, leaving from the Marina Mirage docks, Main Beach is a perfect place to begin your explorations of the Gold Coast.
Hotels in Main Beach & Northern Gold Coast
While there isn't quite as much accommodation available in Main Beach as there is in Broadbeach and Surfers Paradise, hotel rooms provide breathtaking views across the Broadwater. Labrador and Hope Island also have a sizeable array of accommodation, offering panoramic views and still water beaches.
Southern Gold Coast
Heading south towards the Queensland and New South Wales border will bring you to Kirra Beach and Coolangatta - the surfing capital of Australia. Both locations are equally scenic, with most buildings perched right along the beachfront. Though situated away from Surfers Paradise and Broadbeach, Kirra and Coolangatta are ideal for vacationers looking for a relaxing getaway. The beach stretches for ages and, bordered by the rocky head of Burleigh, is safer than some of the more popular beaches like Kurrawa.
Hotels in Southern Gold Coast
As well as an abundance of hotels, you'll find an eclectic mix of cafes, shops, restaurants and bars in Southern Gold Coast. Exuding an authentic Aussie feel, a charismatic mix of locals from the Gold Coast as well as New South Wales reside here.
The Hinterland
If you're seeking a tranquil green escape, completely free from tourist crowds, then the Hinterland is for you. Small locally-run stores and cafes provide a warm, homely feel, and there are plenty of wineries and hiking paths to explore. With paragliding, waterfalls, rainforests and glow worm caves, the Hinterland portrays a whole other side of the Gold Coast that is ideal for nature lovers.
Hotels in the Hinterland
Private getaways are available throughout the whole of Springbrook and Mount Tamborine. Providing luxurious, eco-friendly and romantic stays, the Hinterland is a great alternative to the busy furore of Central Gold Coast.
Discover
Find your perfect holiday in Gold Coast
From 870 hotels.