Where to eat in Mexico City – a food and dining guide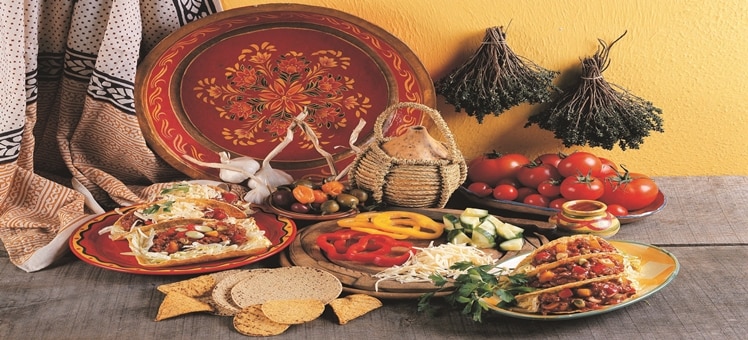 Due to its size, Mexico City has a massive choice of different cuisines. However, it's not all tacos, burritos and enchiladas. You can find everything from Japanese to Polish, Irish to French within the city. There's also great street food as well as high end gastronomy.
Breakfast
To start the day, why not head to Duo in the Condesa neighborhood. They do great coffee and usually put on a breakfast with crunchy crickets from Oaxaca.
•
Duo
, Avenida Amsterdam #53, Col. Hipódromo, Mexico City. Tel: +52 55 5211 6727.
Street food
Whilst in Mexico City, the street food is an absolute must. At Tostadas de Coyoacán there is a vast selection of tostadas (deep-fried corn tortillas) with a variety of toppings, from fresh shrimp with tomato and chilli to pork in chocolate and mole. Tortas, or Mexican sandwiches, are well worth a try. Invented by Senor Armando, an Italian immigrant, he used locally sourced ingredients (including the much adored avocado) to create this tasty treat. Tortas Been is located in an indoor passageway which also houses several shops selling traditional Mexican costumes, and it sells the best tortas in the city.
•
Tostadas de Coyoacán
, Allende 49, Del Carmen, Coyoacán, 04100 Ciudad de México, Distrito Federal Mexico. Tel: +52 55 5659 8774.•
Tortas Been
, República del Salvador 152, Centro.
Mediterranean
At night, if you're looking for something Mediterranean, try Prima. Specialising in North Italian food, the seafood ravioli and meat dishes are second to none. There is also a long list of cocktails, and for the cigar aficionados there is also a downstairs cigar lounge before dinner.
•
Prima
, Calle Adolfo Rosado Salas 109A. Tel: + 52 55 5208 2029.
Modern Mexican
Restaurante Lamm offers modern Mexican food with a twist. The glass and wood design serves a contrast to the building, a Victorian mansion slap bang in the middle of the cultural quarter. Cage Tacuba has rave reviews for its décor, service and typical Mexican food. Prices are a little over the average spend but the overall dining experience makes it well worth a visit. El Cardenal is a popular breakfast and lunch-time haunt for those looking for delicious Mexican treats and mouth-watering hot chocolate. You may have to queue to get in but it's well worth the wait.
•
Restaurante Lamm
, Alvaro Obregon 99. Tel: + 52 55 5514 8501.•
Café Tacuba
, Calle Tacuba 28, Centro, Mexico City, 06010, Mexico. Tel: +52 55 188 482.•
El Cardenal
, Av. De las Palmas 215, Mexico City 11000, Mexico. Tel: +52 26 23 04 02.
Fine dining
The San Angel Inn is one of the city's most exclusive restaurants with crisp white tablecloths and bespoke wooden furniture. Inside an old hacienda (complete with courtyard and garden) it serves traditional Mexican and European food. Watch out for the puntas de filete con chillies, or chilli steaks. They'll knock your socks off! Elago is set in a soaring dining room with views out to Lake Elago. The food is a mixture of traditional Mexican and international fare.
•
The San Angel Inn
, Calle Diego Rivera 55. Tel: + 52 55 5514 8501.•
Elago
, Lago Mayor 2da Sección Bosque de Chapultepec, 11850, Mexico City. Tel: +51 5515 9585.
Chocolate
Chocolate lovers should head to La Casa Tropical, where it is prepared from scratch by Héctor Galván. Already awarded various international awards, the chocolate here is sumptuous. He works in close collaboration with cocoa growers in Tabasco and is on a mission to prove that both chocolate and vanilla are luxury ingredients. Hector will recount tales from his journey as an artisan chocolate maker as freshly made chocolate melts in your hands – heaven!
•
La Casa Tropical
, Chiuhaha 77, Col. Roma. Tel: + 52 55 5564 7570.
Discover
Find your perfect holiday in Mexico City
From 1050 hotels.