A Christchurch shopping guide – where to go and what to buy
A Christchurch shopping guide – where to go and what to buy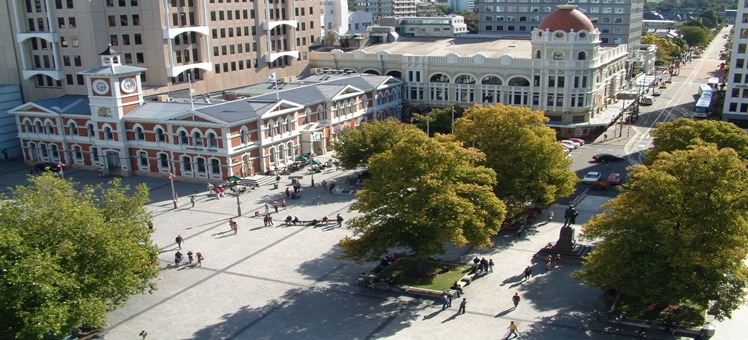 The Canterbury region has a thriving local industry that produces plenty of sought-after foods and crafts. City center markets swell with locally raised lamb, artisan cheese and freshly baked bread. For gems and gifts, Akaroa is your stop, with French-styled jewelry boutiques and cutesy craft shops. Canterbury as a whole boasts a huge art scene, so you're never far from a gallery. But if you want good old high street stores you might be surprised – the city's Re:START project is far from ordinary.
Don't forget the wine. Waipara Valley north of Christchurch is a wine tasting paradise, whether you're a connoisseur or new to the craft. This area has over 70 vineyards, so there's no shortage of choice if you're looking to buy a crate of Pinot Noir or Sauvignon Blanc.
Re:START
This pop-up shopping destination in the heart of Christchurch is one of many positive projects that arose from the earthquakes of recent years. With so many of the center's shops damaged, Re:START was constructed as a quick-fix commercial hub – a complex of shipping containers that looks like a stylish tumble of multi-colored bricks. Well-known city shops were relocated here, including fashion outlets, book stores and cafes. The retail village is a creative and buzzing community, with special events hosted including street performances, live music and fashion shows. Come here for high street and independent shops in a startling location.
Christchurch Farmers' Market
With such an abundance of locally grown and freshly caught produce, it would be foolish not to take advantage by browsing one of the city's markets. Christchurch Farmers' Market, held in Riccarton House every Saturday morning, is a riot of colorful stalls and friendly faces. Local producers sell everything from fig jam and freshly baked bread to potted herbs and racks of gleaming meat. It's the perfect chance to sample tasty regional delicacies and meet the local bakers, brewers and butchers to quiz them on their methods. Christchurch Farmers' Market is also just a pleasant weekend excursion – it's held outside - and is undeniably green, recycling its waste into compost.
Akaroa
The French harbor town of Akaroa, about 90 minutes' drive east from Christchurch, is a charming coastal shopping destination. For fresh produce including fruit, vegetables and plants, head to the Akaroa Farmers' Market in Snuggle Inn car park – a lively affair with plenty of opportunities to meet the locals. Elsewhere in the town, find exquisite pearl and amber jewelry, galleries of local art and specialist products in little colonial boutiques. Akaroa's shops are all within a short walk from each other, and it will be easy to find a souvenir or gift here – from locally made butter fudge to natural sheepskins and artisan cheese.
Canterbury Region
The region of Canterbury boasts several rural shopping gems that offer something different from the city. The towns of Cheviot, Culverden and Omarama all feature popular art galleries stuffed with local works and antique collectables. On the northern coast, Kaikoura specializes in fresh seafood, with small shops selling live mussels, crayfish and cod. Towards the south of the region, Timaru offer shoppers a lively new development of boutiques and craft stores, while laidback Geraldine is also a must-visit; its historic streets burst with buys such as local cheese, wood carvings, glassware and paintings.
Discover
Find your perfect holiday in Christchurch
From 370 hotels.