A Christchurch city guide – parks, pop-ups and the great outdoors
A Christchurch city guide – parks, pop-ups and the great outdoors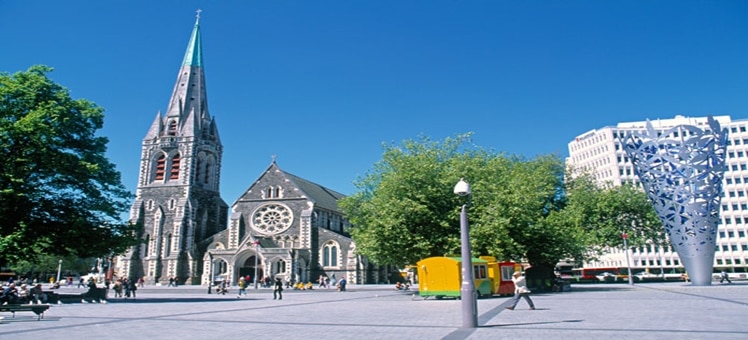 The city of Christchurch is a marvel of landscaping, creativity and survival. With the shock of two devastating earthquakes in 2010 and 2011, the 'garden city' is now more innovative and open than ever before. From the quirky container shops and bars to the ever-tranquil meanders of the River Avon, Christchurch offers travelers a unique experience that no other city can.
Of course, the city itself should not be your only stop when visiting Christchurch. The surrounding region of Canterbury is the largest state in New Zealand and offers endless opportunities for outdoor exploration. With national parks, azure glacial lakes and the magnificent Southern Alps on your doorstep, you'll have no shortage of adrenaline boosters such as bungy jumps, ski slopes and white water rafting. Wildlife in Canterbury - in particular marine creatures – is also second to none; experience rare dolphin species, shy penguin colonies and giant sperm whales.
The Garden City
Christchurch is blessed with an abundance of green spaces. Hagley Park, dominating the city center, is the jewel in Christchurch's verdant crown, with sweeping lawns and avenues lined with oriental plane trees. This large park also features the tranquil Victoria Lake, a loop of the meandering River Avon and a giant gum tree that clamors to be photographed. Nestled in the bend of the river here is the Christchurch Botanic Gardens, a maze of exotic plants featuring a circular rose garden, steamy greenhouses and neat flower beds exploding with color. A popular way to experience the gardens is on the Caterpillar Tour, gliding over the pathways in an electric-powered shuttle.
Stunning surrounds
Christchurch's surrounding region of Canterbury is packed with some of the most breathtaking scenery in New Zealand, not to mention a wealth of exciting outdoor pursuits. To the west of the city – at least a couple of hours drive – are the Mount Cook and Arthur's Pass national parks; wild retreats of rugged peaks and challenging hiking trails. Mount Cook also features a one-of-a-kind lake tour of the huge Tasman Glacier, while the world renowned stargazing spot of Lake Tekapo lies nearby. North of Christchurch, Hanmer Springs is a haven to rest aching limbs, with natural spas and hot pools, while even closer to home the Waipara Valley offers tasting and tours with over 70 vineyards producing some of the best wine in the country.
Canterbury coastline
With its lengthy coastline, the region of Canterbury is a trove of ocean treasures. A short drive south of Christchurch, the bay-fringed Banks Peninsula is home to picturesque countryside and the quaint French harbor town of Akaroa. Here visitors delight in spotting the rare Hector's dolphin in the harbor and the large penguin colony in nearby Flea Bay. Heading north up the coast is also well worth the drive, as you'll reach Kaikoura after a couple of hours. This small town is famed for its seafood and its marine life – you can go whale watching (giant sperm whales) or swim with seals and dolphins.
A resilient city
With the earthquakes of 2010 and 2011, around 80% of Christchurch city center was left damaged beyond repair. But from this destruction a vibrant renaissance has flourished, with scattering of pop-up eateries, churches and shops. RE:START is an example; around 30 designer retail shops constructed simply from shipping containers. These lowly boxes have also been used to create funky bars such as Revival, while the Christchurch Cathedral has arisen again as a glowing A-frame of reinforced cardboard. Mobile bars and restaurants also dot the streets – take a leisurely stroll to explore post-quake Christchurch or discover the science and the stories at museum exhibition Quake City.
Discover
Find your perfect holiday in Christchurch
From 370 hotels.