Where to eat in Beirut – a food and dining guide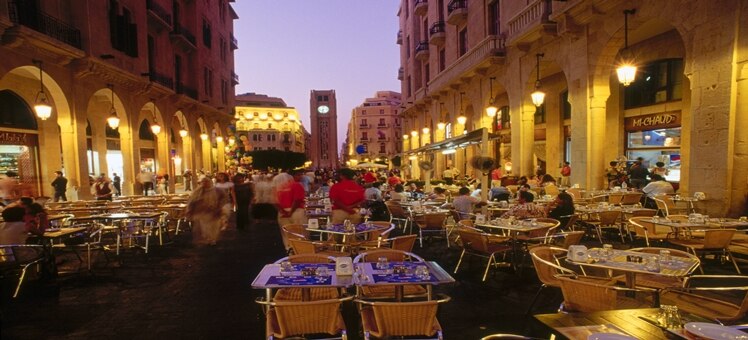 With its seemingly limitless choice, Beirut is a foodie's heaven. Vibrant, varied and flavorsome are just a few of the complimentary adjectives you could use to describe Lebanese cuisine with dishes typically abundant in fresh fruits, vegetables, meats and seafood and seasoned with healthy portions of garlic and olive oil.
Arguably the birthplace of 'mezze', eating out in Beirut is very much a social affair, and the small servings of several different dishes lend themselves perfectly to sharing. This ensures that eating together is very much an occasion rather than just a process. Usually mezze can range from smaller courses consisting of bread with baba ghannouj (mashed eggplant and olive oil), or hummus to more substantial grilled and skewered treats.
Restaurants
Along with its rapid development as a middle-eastern hotspot, gastronomy in the city has equally exploded. Diners really are spoilt for choice. As to be expected, there are countless restaurants serving scrumptious authentic Lebanese food. And if that's not enough to get the taste buds wagging, worldwide cuisine is also firmly migrating here, resulting in some extremely innovative combinations of local and international menu ideas.•
BouBouffe
, Mar Mitr Str, Achrafieh, Beirut, Lebanon. Tel: +96 1133 4040.•
Signor Sassi
, Zaitunay Bay, Beirut Marina, Professor Wafic Sinno Avenue, Beirut City Centre. Tel: +961 1369 930.
Souks/Markets
A great way to try some fresh, local ingredients is to head to one of the many souks dotted throughout the city. These farmers' markets are awash with locals selling all manner of wares including artesian treats and traditional handcrafted souvenirs. However, they're best known for the vast array of organic and seasonal produce, with smells, colors and tastes inflicting a delicious assault on the senses. Souk el Tayeb is the most popular and offers a great chance to sample the local cuisine at reasonable cost.
•
Souk el Tayeb
, Trablos Street, Beirut, Lebanon.•
Beirut Earth Market
, Hamra Street, Beirut, Lebanon.
Cheap Eats
Sprinkled around the city are a number of fantastic family-run eateries. A common part of Lebanese culture involves visiting the local fern; these are small communal bakeries serving decadent delights such as the famous mana'eesh (small pizza-shaped dough bases topped with a range of ingredients, lamb, sausage, cheese). As well as being extremely tasty and great value, these convenient bakeries provide an authentic glimpse of the locals' way of life and an opportunity to try some delicacies that are less well-known.
•
Fern Ghattas
, Gemmayze, Beirut, Lebanon. Tel: +96 1158 5218.•
Al Falamanki
, Sodeco Square, Monot Street, Beirut, Lebanon.
Fine Dining
At the opposite end of the spectrum, Beirut has seen a rise in fine dining that could rival the leading gastronomic super-powers of Europe. Owing to its cosmopolitan and overtly international agenda, the city plays host to a stunning range of high-end dining establishments aimed at capturing the palates of the rich and well-traveled. Offering exceptional quality in both food and service, you could be forgiven for thinking you're dining in some of the Michelin-starred restaurants on the continent.
•
Da Giovanni
, Rue Georges Haddad, Beirut, Lebanon.•
La Parrilla
, Rue St. Maron, Gemmayze, Beirut, Lebanon.
Discover
Find your perfect holiday in Beirut
From 290 hotels.