Osaka Travel Guide - Your destination overview of Osaka, Japan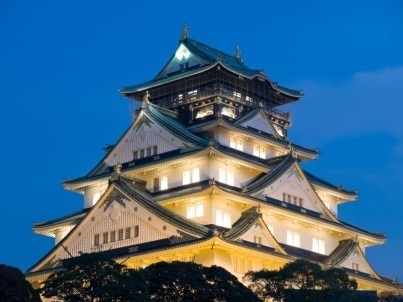 Japan's second largest city sits in the Kansai region of Honshu on Osaka Bay and is an industrial powerhouse and the original commercial capital. Despite its rich history, Osaka is not really one for the historian, focusing more on its shopping and futuristic side, though it does boast important shrines and landmarks.
The city is very densely packed and seems at first glance to be all about business, with its massive skyscrapers, a multitude of rail tracks and busy port, yet there is plenty to see for the inquisitive tourist in a range of buzzing districts.

Most of the sightseeing and shopping is in the northern districts, with the likes of Shinsaibashi and Umeda having shopping malls, hotels and restaurants galore. There are several large towers to take in neighboring districts and miles of riverbanks to stroll in peace and escape the madness.


Shinsaibashi
Shinsaibashi is the most interesting district in Osaka for tourists. It is just north of downtown and comes with a huge amount of shopping and entertainment, plus is well connected with the rest of the city by metro. The bustling American Village is in here and is a lot of fun, awash as it is with smart shops, cafés, and bars.
Umeda
Umeda is a futuristic part of the CBD and has many of the city's best hotels and top-end shops. It is also in the north of town and is well connected by the subway and municipal railway. Umeda buzzes day and night with white-collar types and tourists and also has some top landmarks, like the Umeda Sky Building.


Midosuji
This smart area of town is typified by large department stores and shopping malls, but is eclectic, with reams of boutiques and wine bars. Midosuji is right in downtown Osaka and has highlights like the Dotombori Bridge. There is also a decent theater scene nearby and you can go on a sightseeing cruise along Osaka's canals.


Kyobashi
Kyobashi district is northeast of town and is a decent mix of new and old. It is best known for the huge Osaka Castle, the large Osaka Business Park and the many waterways in the area, making for good walking and a nice atmosphere.


Nanko
Nanko is one of the newer, up and coming areas of Osaka that lies in the south of the city. It fronts Osaka Harbor and the bay and is one of the best areas to eat seafood. One of the star attractions is the Osaka Aquarium, while sea breezes cool the area in the summer.
Discover
Find your perfect holiday in Osaka
From 2640 hotels.