Hanoi Entertainment Guide - For fun, recreation, and relaxation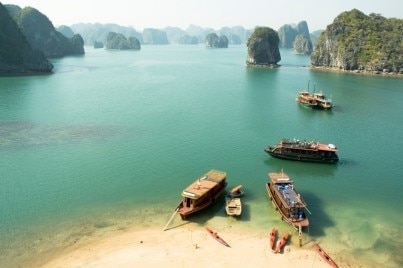 When it comes to entertainment, Hanoi has plenty to offer. In addition to seeing the sights, visitors can take in a show at the theater, indulge in a spot of shopping or explore the parks. There are also outdoor pursuits available such as golf, swimming and cycling.
Although the nightlife scene is much tamer in Hanoi than in other parts of Southeast Asia, there are still plenty of bars, clubs and venues offering life music to be found here. Most of the bars close at 23:00 or midnight, so partiers tend to start early drinking early in Hanoi.

There are a number of vibrant festivals held throughout the year and this is a great time to see the culture and religious spirit of the city. One of the most interesting festivals for visitors is the Co Loa Festival, while those who arrive in the spring will witness the annual elephant festival.


Ngoc Son Temple
Situated in Hoan Kiem Lake, this picturesque temple is surrounded by tranquil grounds and is home to a number of gigantic turtles as well as containing displays of Vietnamese history.


Hanoi City Tours
A number of different travel companies take visitors to Hanoi on tours of the city, which serves as a great introduction. These daylong tours include a wide range of major sightseeing attractions such as the Ngoc Son Temple, the Dong Xuan market, the Old Citadel, the Ho Chi Minh Mausoleum and Museum, the One Pillar Pagoda, the Quan Thanh Temple and Tran Quoc Pagoda, the Ethnology Museum, the Literature Temple and Quoc Tu Giam. It is also possible to arrange longer tours which take visitors to places of interest just outside the city.


Golf
There are some great places to play golf in and around Hanoi and a good place to start is the Hanoi Club, which also offers a range of other activities. Another excellent choice is the King's Island Golf Resort and Country Club, which offers spectacular views of the Ba Vi Mountain and the waters of the Dong Mo Reservoir from its 36-hole course.


Cooking classes
Taking a cooking class is a good way to get something extra out of the trip than simple souvenirs and photographs and is also a good way to impress friends back home. The stylish Old Hanoi offers gourmet cooking classes, while the Hanoi Cooking Centre offers both long and short courses for adults and children.


Co Loa Festival
Lasting for an entire week, this festival takes place at the start of the year in a tribute to King An Duong Vuong. Culture lovers will be able to see traditional cheo theater performances as well as wrestling competitions and cockfighting.


Nightlife
Hoan Kiem Lake contains most of Hanoi's Western-style bars and this is a good place to meet other travelers at the end of the day. There are also some vibrant clubs here where it is possible to dance until the small hours. Also popular with music lovers is Minh's Jazz Club, where people gather to listen to live sets from local musicians.
Discover
Find your perfect holiday in Hanoi
From 1580 hotels.