Top 10 nightlife things to do in Austin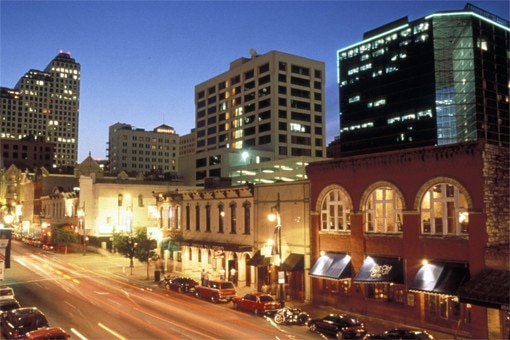 Bats and barbecue, rockin' rockabilly and swinging country – Austin revels in its nightlife. Get the full experience after the sun sets with this guide to the best of Austin nightlife.
Attend a taping of Austin City Limits
See rare showcases from major country and rock music stars at a taping of PBS television's long-running program Austin City Limits. Tickets are first come, first served – it's worth standing in the line see a big-name performer.

KLRU-TV studio, 2504B Whitis St.


Bats on the bridge at dusk
Every night at dusk, thousands of bats flutter in smoke-like clouds from underneath the Congress Avenue bridge. Any spot on the bridge gets you a close-up view. Combine the spectacle with a seafood dinner and a view from the patio at the Shoreline Grill.

98 San Jacinto Blvd.


Rockin' at the Continental
The live rocking sounds of country, rockabilly and rock pour out of clubs all around Austin. One of the best is the Continental Club, where red walls are pasted with posters of past performers. Catch one of tomorrow's stars on his way to fame amid the relaxed, friendly neighborhood vibe.

1315 South Congress Ave.


Watching the sunset over Lake Travis
Sip a margarita and toast with locals while watching the sun set on Lake Travis from the cozy hillside decks at the Oasis, a Tex-Mex restaurant in west Austin.

6550 Comanche Trail, near Lake Travis


First Thursdays street festival
On the first Thursday of every month, South Congress Avenue comes alive with a buzzing mix of jugglers, markets and live music. Shops fling their doors open for late-night shopping, while people stroll up and down the eight-block stretch celebrating the approach of the weekend.


Dancing at the Broken Spoke
Two-step your way through a rollicking evening of live country music at the Broken Spoke, one of America's great country music dance halls. Dance up an appetite, then dig into a tasty chicken-fried steak and cool off with ice-cold beer.

3201 South Lamar Blvd.


Touring Austin's haunted streets
Uncover downtown Austin's ghostly mysteries on a haunted walking tour. The "Ghosts of Austin Downtown" tour tells ghostly tales based on real-life events, while the tavern-crawl "Haunted Sixth Street" tour takes you to the places where spirits like their spirits.
Symphony under the stars
Every Sunday night, the Long Center for the Performing Arts hosts free symphony concerts along the river in Butler Park. Grab a picnic basket and soak up a warm Austin night under the stars, while listening to an orchestra play classical and jazz pieces.


A night out on Sixth Street
From Congress Avenue to Red River, this five-block strip of downtown's Sixth Street is Austin nightlife at its most rocking. From packed noisy saloons to low-key piano bars, there is something here for every music fan.


A sunset on downtown Austin's Town Lake
On a clear night, the waters of Town Lake shimmer in downtown Austin, reflecting the sunset's orange glow. See it for yourself over a hearty fajitas dinner from a boat run by Capital Cruises, which plies up and down Town Lake.
Discover
Find your perfect holiday in Austin
From 680 hotels.