Spring vacations in Washington D.C.
Spring vacations in Washington D.C.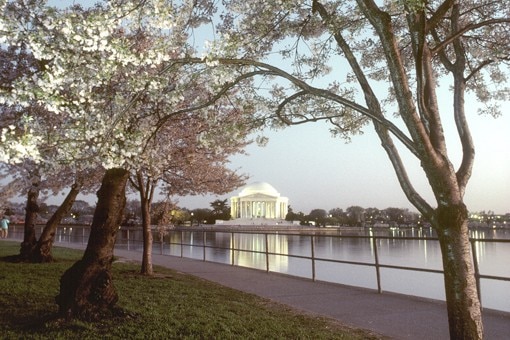 A spring vacation in Washington brings warm sunshine, casual strolls along the National Mall and nearly 4,000 cherry trees in bloom. Book a Washington hotel and watch the city come to life.
Cherry Blossom Festival
All of Washington looks forward to April, when the city's 3,700 cherry trees burst into flower. A gift to the United States from Japan in 1912, the trees sprinkle the ground with pale pink blossoms all along the Tidal Basin. Cherry Blossom Festival activities include a giant parade, musical concerts and evening lantern tours of the trees and the Tidal Basin. Many visitors simply pack a picnic lunch and enjoy a sunny afternoon under the blossoms.


Concerts on the lawn at Wolf Trap
Wolf Trap National Park for the Performing Arts hosts performances of all genres, including orchestral, jazz and rock concerts, opera and theatrical shows. When May arrives, performances move from inside The Barns on to the Filene Center's lush green lawns under the welcome shade of hardwood trees. Although Wolf Trap is in rural Vienna, Virginia, Washington's Metro system provides a reliable transport link.


United States Botanic Garden
Since 1816 the United States Botanic Garden has been a source of rural calm just southwest of the U.S. Capitol Building. Stroll through the National Garden, devoted to environmental and botanical education, as well as the Rose, Butterfly and First Ladies' Water Gardens. Move on to the more formal Bartholdi Park, with its geometrical plantings and 30-foot fountain. The Conservatory's delicate indoor specimens can be visited year-round. In spring, the gardens' outdoor plantings grow lush with colorful tulips, hyacinths, daffodils and other spring bulbs.


Bicycles and kayaks in Rock Creek Park
The 1,750 acres of Rock Creek Park stretch over 9 miles along the Rock Creek valley from the Potomac River to the Maryland state border. This is one of the largest urban parks in the United States. Rent bicycles or kayaks at the Thompson Boat Center and follow Rock Creek north past the National Zoo. In spring and summer the park's Carter Barron Amphitheatre stages concerts and Shakespearean plays.
Hunting for Easter eggs at the White House
Every Easter Monday thousands flock to the White House for the annual Easter Egg Roll. About 1,000 brightly painted wooden eggs, many autographed by the president or celebrities, lie hidden on the White House South Lawn and The Ellipse to the south. Other festivities include an Easter Egg Roll and dancers, clowns, puppets and military drill teams.


Catch a baseball game
Celebrate your spring vacation in Washington watching America's favorite pastime, baseball. The home team, Washington Nationals, play at Nationals Park, south of the U.S. Capitol Building on the banks of the Anacostia River. Their season begins in April. Within the park are batting and pitching cages, a playground and Washington's famous cherry trees.