Short breaks in Hamburg – boat trips, elegant architecture and cabaret nightlife
Short breaks in Hamburg – boat trips, elegant architecture and cabaret nightlife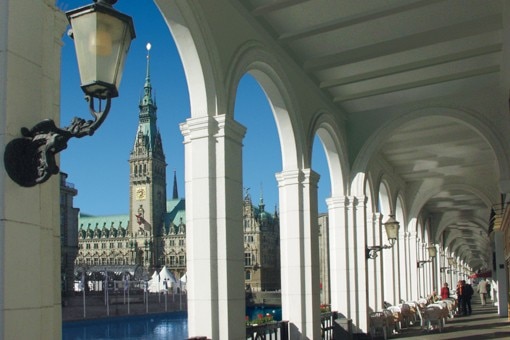 A short break in Hamburg is a great way to get the best out of this lively city. Book a Hamburg hotel and get inspired with this two-day itinerary as your guide.
Hamburg short break day one, morning
Start your Hamburg short break near Alster Lake. From Jungfernstieg promenade, boats take visitors onto the water – a great way to get a first impression of this maritime-flavoured city. The Alster Lake is surrounded by some of the city's most elegant architecture, and its canals give way to beautifully kept backyards and villas. Back on Jungfernstieg, the small bistros that cluster around the lake provide a pleasant spot for a lunch-time snack.

Start: Jungfernstieg.
Nearest S-Bahn Jungfernstieg


Afternoon
Around the corner from Jungfernstieg is the ornate façade of Hamburg's neo-Renaissance City Hall, the city's grandest building. Seek out its hidden inner courtyard for some meticulously crafted balconies and bronze sculptures. Just behind the City Hall are the white arches of the Alster Arcades, hosting chic shops and pavement cafés. Cross the adjacent canal for Neuer Wall street, home to some of Hamburg's most exclusive shops - worth a stroll down even if just for window shopping.

Start: City Hall.
Nearest S-Bahn Rathaus


Evening
Take the underground from Jungfernstieg to St Pauli, Hamburg's nightlife district. The once infamous Reeperbahn has long outgrown its reputation as a mere red-light area. Stroll past its neon-lit bars, clubs and cabaret houses in the early evening, before settling in one of the area's friendly sailors' pubs for salted herring underneath old-fashioned ship lanterns. If you fancy a drink afterwards there are plenty of places to choose from, and remember there's no rush – St Pauli never sleeps.

Start: Reeperbahn.
Nearest S-Bahn Reeperbahn


Hamburg short break day two, morning
Start your day in Hamburg's sprawling port. If you don't mind rising early, the weathered vendors of the city's traditional Fish Market flog their catch from 5-9.30 a.m. every Sunday. The port is best explored with the Long Harbour Tour. Departing from Landungsbrücken pier, the boat takes visitors past frantic container terminals and huge tankers, before entering the maze of 19th-century brick storehouses that is Speicherstadt.

Start: S-Bahn Landungsbrücken
Nearest Landungsbrücken.


Afternoon
From Landungsbrücken, it's two S-Bahn stops to Sternschanze, where the streets are lined with relaxed, lounge-like cafés serving frothy cappuccinos and exotic teas. If you don't need the rest, pop to the Karoviertel district around the corner, where young Hamburg designers sell one-off fashion items straight from their studios.

Start: Schanzenviertel.
Nearest S-Bahn Sternschanze


Evening
Round off a Hamburg short break with an exuberant cabaret at the renowned Schmidt Tivoli on Reeperbahn, or catch the Lion King at its permanent Hamburg home on a small island off the pier. If you're after a culinary finale, book a window table at Fischereihafen in the port, and allow Hamburg's most famous fish restaurant to dish up oyster plates, lobster spreads and fine turbot.

Start: Reeperbahn or Landungsbrücken.
Nearest S-Bahn Reeperbahn or Landungsbrücken
Discover
Find your perfect holiday in Hamburg
From 430 hotels.