A Krakow travel guide – royal capital with Gothic churches, historic Jewish quarter and blossoming café culture
A Krakow travel guide – royal capital with Gothic churches, historic Jewish quarter and blossoming café culture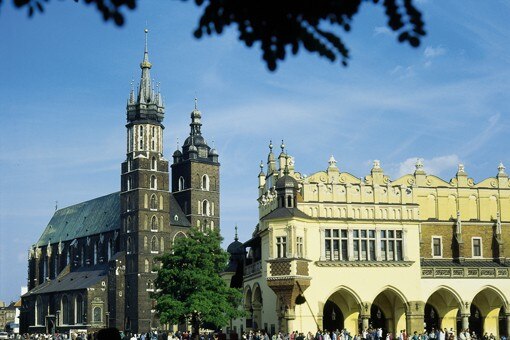 A city break in Krakow unveils royal history and unspoilt Gothic architecture. Book a Krakow hotel to get to the heart of the Old Town and experience a buzzing nightlife in a city enjoying a rebirth.
Historic landmarks
Krakow is alive with history and culture. In the Old Town, centrepiece of huge market square Rynek Glowny, the colonnaded Cloth Hall market sells arts and crafts. On its eastern side, Gothic St Mary's Basilica houses an ornate altarpiece. Every hour a bugler plays from the top of the soaring tower. High on a hill further south, Wawel Royal Castle looks out over the city. The castle is the ancient home of kings and is now a sprawling museum with Italianate courtyard. In Kazimierz, learn about the harrowing local Jewish history at the Galicia Jewish Museum and look for original wall scriptures inside Isaac's Synagogue. Take time out from your Krakow hotel to uncover Krakow's communist past in Nowa Huta with a tour in a Trabant car.


Shopping for art and design
Krakow lives up to its label of arty city. Shoppers head to the Cloth Hall and Old Town galleries for glowing amber jewellery and Galeria Dom Polski for local arts. On your Krakow city break, hunt down antiques and Catholic icons at the ad-hoc Hala Targowa fleamarket in Kazimierz. Krakow's best designer gear is found at malls like Galeria Centrum and in the work of visionary local designer Monika Drozynska at Punkt in the Old Town.
Food and drink
Settle down for a cosy drink in hidden café-bars around Plac Nowy in Kazimierz, hub of Krakow's café and bar culture. Here, locals gather for strong coffee or a beer at candlelit wooden tables. Classic Polish dishes are recreated with a modern twist at Old Town eateries, alongside basic cafes serving up bowls of dumplings and beetroot soup. Riverside restaurants along the River Wista around Wawel Castle provide a serene setting for dinner.
Discover
Find your perfect holiday in Krakow
From 920 hotels.