A Cologne travel guide – a world-famous cathedral, medieval history and colourful carnivals
A Cologne travel guide – a world-famous cathedral, medieval history and colourful carnivals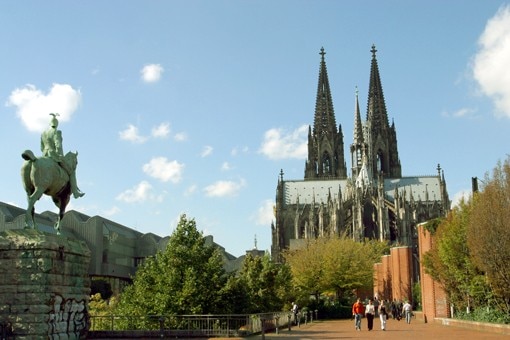 A Cologne city break takes visitors from the towering Gothic spires of its famed cathedral to the city's procession of sweeping green spaces. Book a Cologne hotel to experience the city's open-minded spirit and sample its hearty Rhineland cuisine or a glass of Kölsch beer in its medieval-flavoured historic quarter.
Historic churches
Cologne's most famous landmark, the Dom cathedral rises up over the centre of the city. Gaze up its enormous twin spires from the Domplatte square, before exploring the treasure vault inside. From here, narrow streets lead into Cologne's historic quarter, where restored 14th-century houses mix with the city's cluster of Romanesque churches. At the Romano-Germanic Museum, next to the cathedral, mosaics and tombs are among the exhibits taking visitors through Cologne's archaeological past.


Beer and fritters
In the beer garden and cellar of the Früh brewery, just behind the cathedral, visitors enjoy Kölsch, the city's light lager beer served in long thin glasses. The pubs of the medieval historic quarter around the corner, serve traditional snacks like Halver Hahn, a rye roll with gouda and mustard. Alternatively, family-owned restaurants dish up tasty potato fritters with sauerkraut. For a drink afterwards, there's the lively, bar-lined Zülpicher Strasse, known as the Latin Quarter.


Family-friendly museums
At the Carnival Museum huge effigies and colourful puppets introduce visitors to Cologne's century-old carnival tradition. On the city's streets, the 'fifth season', as locals call the carnival, usually peaks in February. The Chocolate Museum, on the Rhine embankment, provides a hands-on tour through 3,000 years of chocolate history. Cologne's residents love their green spaces – join them on the lush meadows of Rheinpark, situated on a tree-lined stretch of the Rhine embankment.


Discover
Find your perfect holiday in Cologne
From 430 hotels.