A Bournemouth travel guide – miles of sandy south coast beaches, two piers and top entertainment
A Bournemouth travel guide – miles of sandy south coast beaches, two piers and top entertainment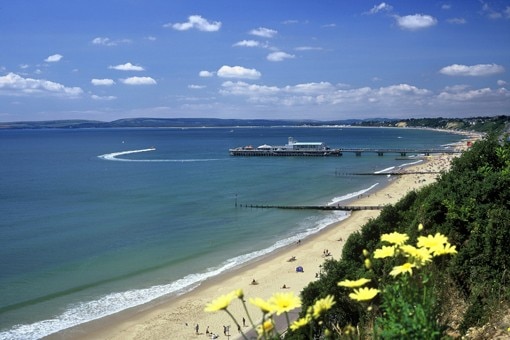 Seven miles of golden beach, backed by greenery-draped cliffs, are the reason Bournemouth city breaks are enduringly popular. Book a Bournemouth hotel for the best of Britain's seaside entertainment.
Family fun
Kids lead the way to Bournemouth pier for candyfloss, a traditional carousel and even a helter-skelter, along with games arcades and hair-raising modern rides. Leisurely boat excursions leave from the pier. Close by are the Oceanarium, Bournemouth's award-winning aquarium, and the gloriously Victorian but family-friendly Russell-Cotes Art Museum. There's bright and cheerful family eating on the seafront promenade. A tethered hot-air balloon in the Lower Gardens gives a bird's eye view of the coast. Colourful little 'land trains' run the length of Bournemouth seafront from Alum Chine to the town's second pier at Boscombe.



Wind and water
Bournemouth's artificial surf reef – Europe's first – adds to a reputation for surfing, windsurfing, Jet Ski and a host of water sports on Boscombe and Southbourne beaches. Sea-facing cliffs create ideal conditions for paragliding too. With huge Poole Harbour on one side and picturesque Christchurch marina on the other, Bournemouth attracts sailing enthusiasts year round.



Seaside leisure
Flower-filled parks and gardens and fragrant pinewoods link the seafront to the town. Upmarket cafés, boutiques and classic department stores like Beals line the pedestrianised shopping streets. Major entertainers star at Bournemouth International Centre (BIC) and a dozen other venues hosting everything from rock legends to classical concerts by the prestigious Bournemouth Symphony Orchestra.